Keijtech Open Exhaust Diverter Systems
You want the signature V8 Sound, and the choice to drive the boat with the true origional silent engine noise? Then our KEIJTECH exhaust diverter system brings the solution. 
The well known American exhaust diverter systems, which have been for sale for many years, have the great disadvantage that they don't close off the exhaust completely and therefore are way too loud in closed position.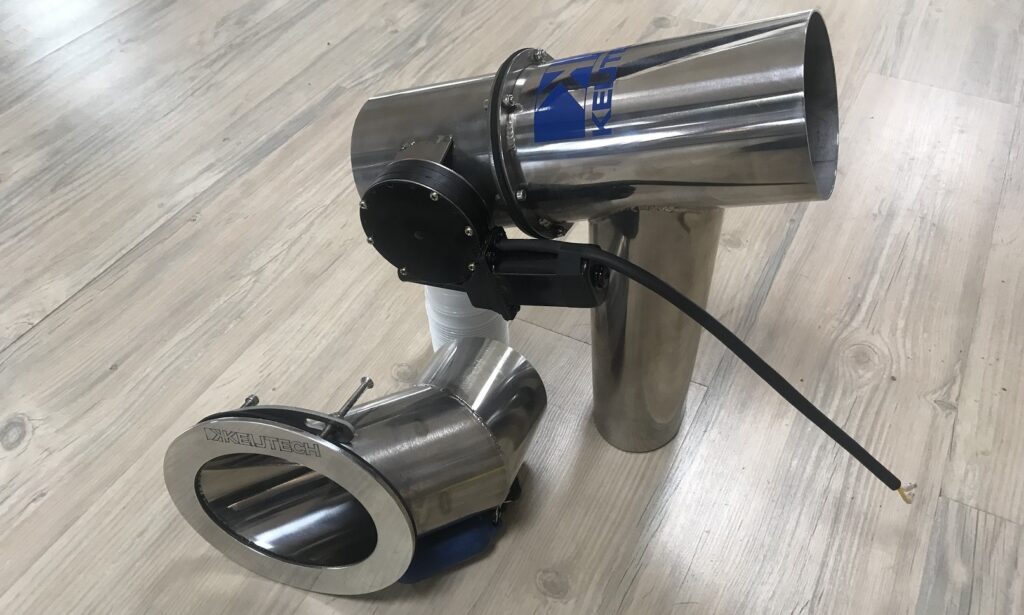 This is why, in the EU, you can't choose for the factory option exhaust diverter anymore since 2017 when ordering a new boat. That is because a boat with these systems can't meet the maximum noise regulations in the 2013/53/eu CE certification standards.
Our KEIJTECH exhaust diverter system closes the exhaust 100% and therefore you have no trouble meeting the 2013/53/eu CE certification standards with your boat.
Now also available for most VOLVO PENTA models with catalytic converter (5.3L, 6.0L and 6.2L models)
There are times when you just want to sail relaxed, without noise, with the original quiet sound of your boat. Especially when you enter the harbor, for example, or sailing through the locks. At that moment our KEIJTECH open exhaust system offers the solution.
Instead of the old-fashioned butterfly valve, our system uses a special valve system that pulls itself into a heat-resistant rubber gasket and holds it in there on spring tension. Because of this special valve the exhaust diverter can be closed 100% and give you the original quite sound of your engine back. Or the true raw V8 sound at the touch of a button.
Our system is manufactured on CNC machines which fabricate the stainless steel AISI316 parts with high precision. The system comes in a polished stainless steel finish. The exhaust valves are controlled by electric actuators and can be operated with a switch mounted on the dashboard.
A set of exhaust Diverter Y-Pipes straight through the transom starts at EUR 1350,- including 21% VAT. excluding all other parts needed for installation like a hull transit set.

This is also useful as a replacement for your old noisy exhaust diverter set. These are easy to swap for our system.
There are two main options for an exhaust system: exhausts straight back through the transom of the boat, or a side exhaust. Our hull transits have a build in one way-valve as standard to prevent water backflow into the outlet. We can supply the exhaust tips / hull transit sets in various designs.
We can also provide tailor-made solutions if the standard set won't fit your boat. We can also arrange the installation of the system when you deliver the boat on a trailer at our workshop in the Netherlands.
Contact us for more information and our digital product catalog.