If you have any questions please contact us.
Also see our luxurious T-Top Bimini for RIB and Centre-console boats.
NEW MODEL BIMINI'S are being tested at the moment, feel free to ask about the new products. Soon available.

Tower Biminitop, model under the top bar
This 3 bow tower bimini is strong enough for speeds up to 80 km/h (when mounted correctly. The biminitop comes with two 2″ clamps to mount the bimini to the tower and a cover for the folded bimini top is included.
The top is about 1.8m wide and 1.6m length from the front to back of the boat.
Color: flat-silver chassis with black fabric.
Last Stock Models with polyester fabric (will fade in a few years) without a storage cover € 275, –
Price with Acrylic fabric (better UV resistant) SOLD OUT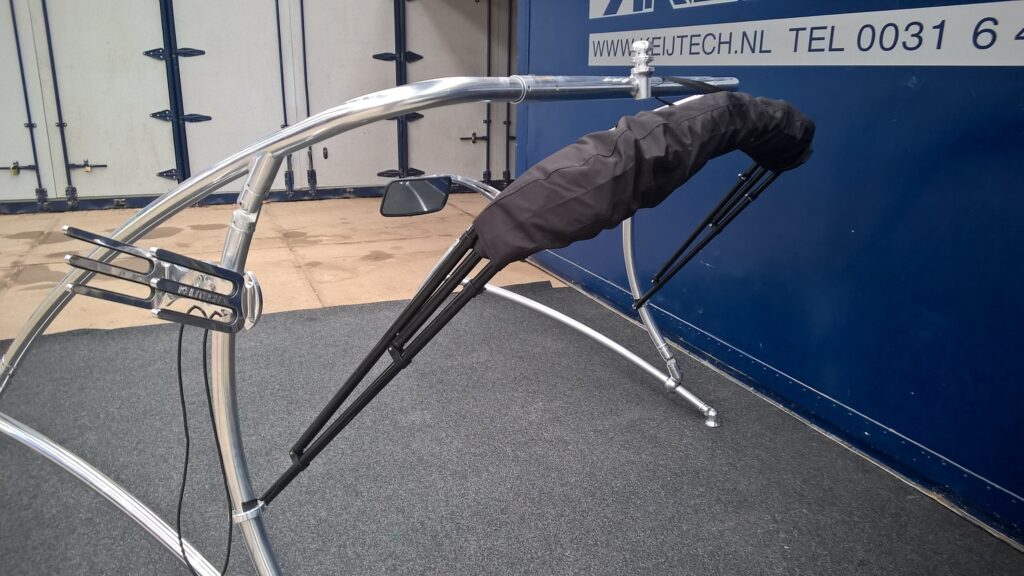 XL Tower Bimini top, model above the top bar
This "over tower biminitop" is suitable for all Keijtech wakeboard towers. It is strong enough for speeds up to 80 km/h.

The Bimini mounts above the speakers and Lights, therefore you maintain all of the standing height under the biminitop which is very comfortable.
This big bimini measures 2m x 2m.

Please note: The chassis of the Bimini can NOT BE FOLDED. The fabric is easy to remove or roll up on the chassis because of velcro patches.
Colour: Black Chassis with Polished struts and Black Fabric.

Price with Acrylic fabric (better UV resistant) SOLD OUT