Scroll down for technical information Keijtech towers
Technical information Keijtech towers:
The wakeboardtowers of our KEIJTECH brand are manufactured from thick-walled T6061 T6 aluminum aluminum tubes.
The side tubes use a diameter of 2.25 inches (57 mm).
The middle topbar section uses 2.5 inch (63mm) tube diameter.
All wakeboard towers are fully adjustable and fit on most speedboats between 1.9m and 2.5m wide. (if your boat is narrower or wider, please contact us for a solution)
The mounting feet of the KEIJTECH towers are heavy duty and have 4 mounting bolts through the hull (instead of 1 or 2 bolts which the other brands use). This prevents local stress points on the hull of your boat.
Each tower comes with all the mounting hardware needed. With normal tools and some technical expertise you can mount the tower in a couple of hours.
The KEIJTECH wakeboard towers and accessories are available from stock in two types of finishes:
Polished aluminum finish:
Bare aluminum polished finish without a protective coating. Affordable and perfectly suited for freshwater boating. If the tower loses it's glossy finish after seasons outside in the harbour, you can easily re-polish it yourself by hand. Normal Aluminum polishing compounds like "Belgom Alu" work perfectly with a hand cloth you will have the tower like new in a couple of hours. (Maintenance advice: re-polish at least once each year)
Black edition:
Black powdercoating with polished aluminum details. Very nice color combination, the high-gloss black looks great on most boat colours. This powdercoating is more resistant to saltwater than the polished finish. The polished mounting feet will lose their gloss overtime in saltwater. These polished finish parts can easily be re-polished by hand.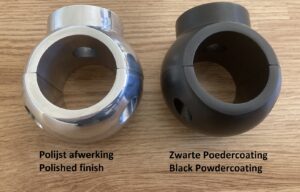 Why should you buy a wakeboard tower?
The towpoint is about 2 meters higher than normal, therefore you are automatically pulled up out of the water.  So stand up easier and jump further with a waketower.



 

If you buy a tower with a optional boardrack, you can hang multiple boards on the tower and the floor of the boat is free to walk.



 

When you hang your boards and vests in the wakeboard rack, the water drips away nicely outside of to the boat and your boat interior remains dry.



 

A boat with a tower simply looks better. You can also mount all accessories such as a biminitop, mirror and speakers onto the tower.